Freelance as a Graphic Designer on Fiverr
The online marketplace for graphic designers has hit its peak, numerous opportunities have now become a possibility. The internet, coupled with amazing software like Adobe Photoshop and Adobe Illustrator, has opened up an unprecedented world of online creativity. It has created so many ways of earning money from online services.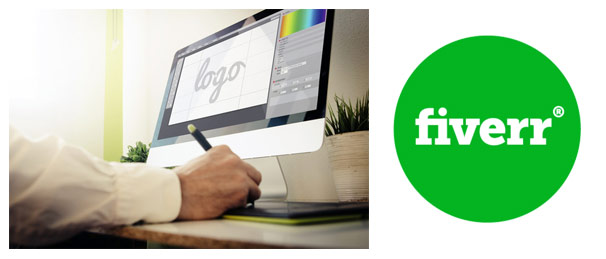 An attractive option for many up and coming creative professionals is to start making money as a graphic designer on Fiverr.  Yes, that's right, you can offer your creative services for $5 a pop, or demand a much higher fee if your work deserves it.
Make the Most Out of Fiverr as a Graphic Designer
This has created some of the best ways to earn money as a graphic designer online.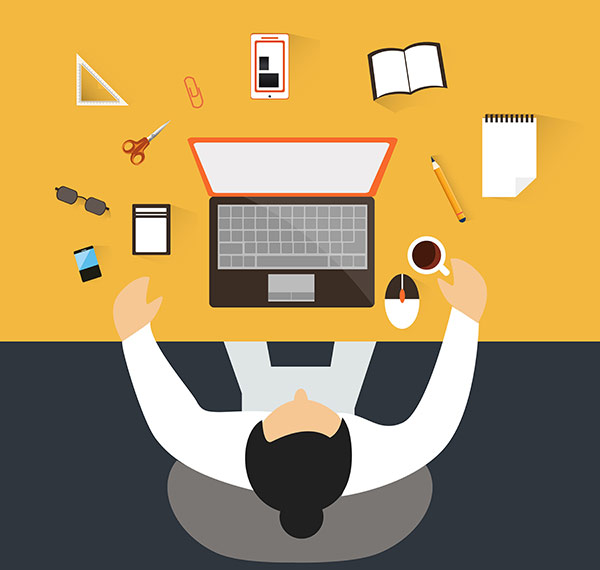 This has catered to the unemployed. It has also catered to the young innovative minds that wish to exploit new opportunities. Earning money online sounds great. Yet, it is imperative that you do your research on credible websites first.
Of course, there are many trustworthy websites that offer online services. They include creative market, Inkd and Fiverr just to name a few. This article will be focusing on how to make money with graphic design jobs.
Make Your Work Stand Out
The fact is, you're not the only one who can offer web design services. The online world is dotted with them. Hence, you have to ensure that your work stands out. Put your best foot forward, and deliver what you promise.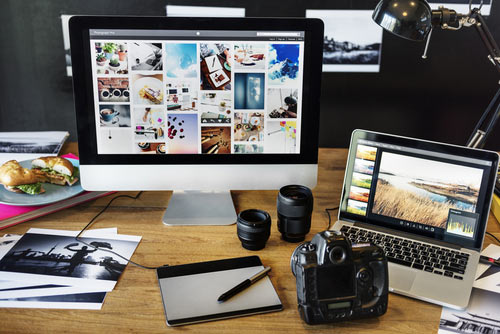 Whatever you do, ensure that it's something that will leave a lasting impression. So much so, that they'll require your services again and again.
Key Benefits of being a Graphic Designer on Fiverr
You can work from home
Vast network of potential customers
Unlimited sub-categories to fill various creative needs
Quick and safe payment processing
You choose when you want to take on more work, and when you don't
You could easily make a full-time living offering your freelance graphic design work on Fiverr.  With a balanced portfolio and a focused work effort, buyers will not hesitate to hire you for their next design project.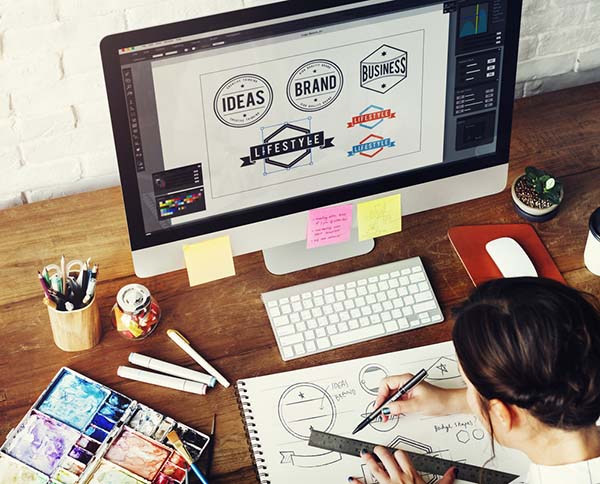 Extras, Standard and Premium Gigs
One idea is to incorporate extras into your gig.  (Gig Extras) For example, by adding compelling images such as stock photography, you can demand a higher premium for the gig.  Have a look at the popular offers, and try to replicate a gig with your own expertise added in.
Don't believe me? Have a look at this video showing you how to make money with logo design on Fiverr:
Build Credibility and Trust
This goes hand in hand with delivering what you promised. Always keep your end of the deal. This could mean that you put effort into your work, as well as being timely.Do not work on a task for hours on end. That will decrease your credibility. Plus, no one likes a slow worker.
Look at this excellent example of a graphic designer on Fiverr who regularly receives gigs of $25 each every day: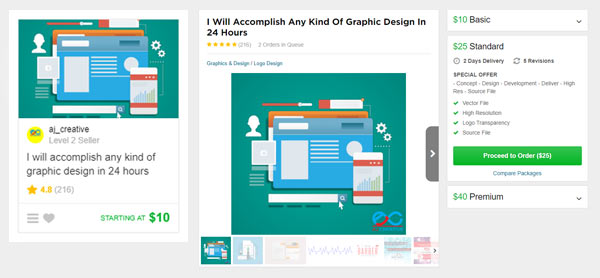 AJ Creative has a great reputation on the Fiverr network, and because of this, can offer a $40 Premium package to maximize profits and continue providing quality graphic design work.
Get the Word Out
Once you start working on Fiverr, don't be silent. Network with others on Fiverr and let them know what you can do. Or better yet, show them.
This allows you to reach more people and increase your customer base. Another great way of networking is by buying services as well. Do not just sell, but buy from other's and create friendships.
Be Versatile
Obviously, being a graphic designer encompasses different facets. Being a skilled and able to perform in all the areas of graphic design is a huge plus. Why? Because this will increase your efforts, and double your income.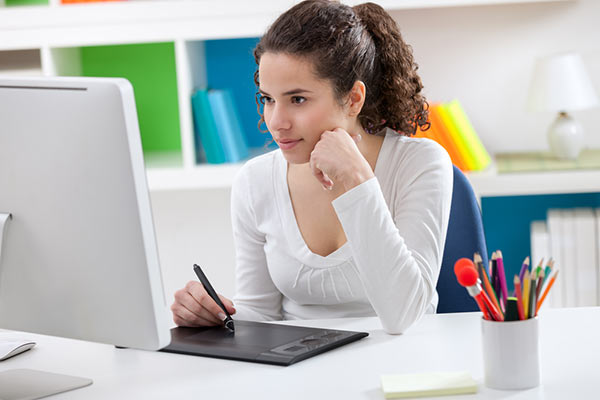 Graphic design on Fiverr is one of the many services offered on the website. Others include content writing, video editing and so forth. Yet, with video editing, there's only so much you can do.But with Graphic design, you have a variety of choices to choose from.
Utilize your graphic design skills, and make an extra income
In conclusion, compared to other online platforms that offer such services, Fiverr is different. Meaning, it gives you an opportunity to attain easy graphic design jobs, for equal pay. Moreover, customers willing to sell such services are never lacking.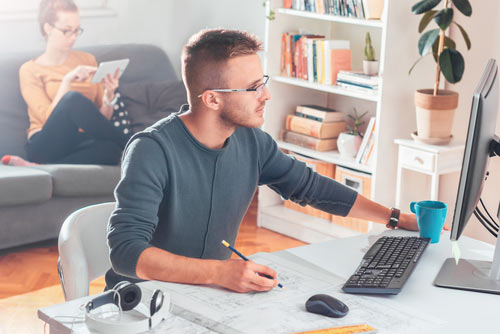 Such a job doesn't take up much of your time or effort. Hence, having it as a side job wouldn't be a bad idea. Besides, earning some extra money could help ease your budget.
Or help pay for that vacation you've been dreaming of. So, go ahead and start earning easy money today, with graphic design Fiverr.