B2B SEO Strategies That Work in 2019
In this post, I'll share some of my best B2B SEO strategies I've learned working in a fast-paced marketing department. I was in charge of aggressively scaling organic search B2B leads using advanced content marketing strategies and best practices. I closely monitored reports on website traffic and analytics, email marketing statistics, and search engine ranking positions. I'll share the SEO strategies that worked for our B2B business, and what didn't.
User experience, relevance, and intent are paramount for successful B2B search engine optimization. The only way to effectively win in these areas is with consistent, genuine content that answers queries that people are actually looking for.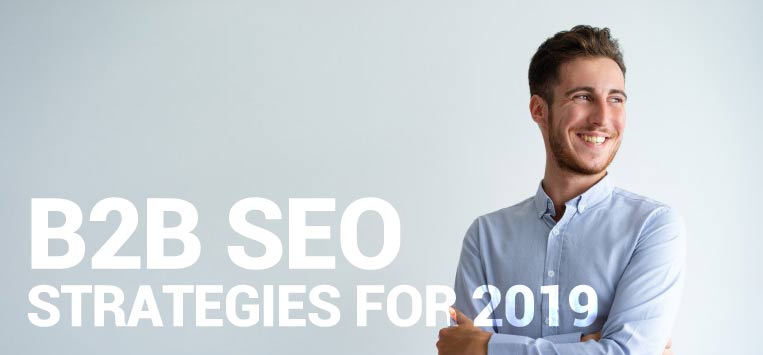 SEO should play a large role in your overall B2B marketing strategy. Whether this includes regularly producing blog posts on your website or creating video content for your business YouTube channel, content is king in our digital environment.
Business leads you earn through content marketing and search engine optimization are what HubSpot calls "inbound marketing" leads. These are some of the highest quality prospective customers for your business because they sought you out as a solution to a specific problem.
The following B2B SEO Strategies leverage the latest updates in Googles ever-evolving machine learning ranking system, based on real results from B2B companies.
Eye-Opening B2B SEO Statistics
93% of online experiences start with a search engine
57% of B2B marketers state that SEO generates more than any other marketing initiative
47% of consumers view 3-5 pieces of content created by a company before talking to a salesperson
72% of online marketers describe content creation as their most effective SEO tactic
At this point, I don't think I need to sell you on the importance of SEO for your business. Content marketing is one of the smartest things you can spend your marketing time and budget on, yet many B2B marketers are focused on the wrong thing. An example is a B2B company that is churning out daily 300-word, keyword-stuffed blog posts that are hammering the reader with features about their product. This just doesn't work anymore, and Google won't rank it.
In this post, I'll do my best to explain the new era of content creation, and why it works on today's smarter search engines. I'll also share some practical tips for improving SEO right away using free tools. These are my best B2B SEO Strategies for 2019, and beyond.
B2B SEO Strategies For 2019
As an introduction, I think it's important to discuss the mindset and behavior of today's B2B purchaser. They are more self-sufficient and resourceful than ever before. The explosion of voice search and improvements to Googles ability to understand user intent has provided your future customers with an unlimited amount of information at their fingertips.
This can be a very good thing, but the key point to remember is that they are in control. Customers in the business-to-business (B2B) space are not going to call you and ask about your services. In fact, your potential clients probably aren't willing to speak with you on the phone at all. Well, not at first.
Your future customers are not dumb either. Posting content that heavily promotes your business in a way that appears biased will leave a bad taste in the mouth of your potential clients. Yes, you should present your solution in a persuasive way, but most B2B marketers are too pushy in terms of the way their content is written. By focusing on delivering actionable value to the search query the user has "Googled", you'll benefit from repeat visits, longer time spent on page, and many more user signals that Google looks for to rank content.
Take this post for example. My goal is to offer as much value as possible to those looking for "B2B SEO Strategies" on Google. You won't see that keyword stuffed into the article in an unnatural way to "game" the search engines. Quality content has a way of finding its way to the right audience if the relevance and intent is spot-on.
New to SEO? Check out MOZ's Beginner's Guide
The Importance of Visibility and Relevance
Having your business appear in front of as many eyeballs as possible is obvious, there is nothing new there. Where most B2B marketers get it wrong, is to focus on talking about their business benefits and features, instead of what their customers are searching for.
Keyword research tools like the Keywords Everywhere Chrome plugin (I use this one a lot myself) will give you a general idea of what's being searched for, but often the best way to uncover ideas is to look at Googles "suggested searches" that appear at the bottom of the SERP.
Your prospects want to explore and analyze your products and services online, on their own time. After all, your business products offer a solution to a specific problem. By showing up at these key moments when cold prospects are searching for an answer, you can be the business that they contact first.
Make no mistake, your competitors are investing heavily in B2B SEO marketing through content creation and keyword research. Those that don't fully utilize the tools and strategies at hand will miss out on countless lead opportunities.
Your website should present the user with a clear path to your solutions. The pain points that your ideal buyer has should be addressed out front so that they can easily see how your product or services can help them. People use Google to ask questions, it's your company websites job to be the answer they're looking for.
Helpful Resource: What are the differences between B2B vs. B2B Marketing? (KoMarketing)
In-House vs. Hiring an Agency
Your Google ranking positions are of the utmost importance, and companies hire entire teams of professionals to monitor and improve these positions. The "black hat" techniques that worked years ago no longer have value in today's search engines. Poor quality links, unnatural backlinking and guest posting are no longer methods that I suggest to grow your online presence.
The best way to dominate search engine optimization in your business space is to have a strategic content creation plan that includes a calendar or regular posts that offer considerable value to your readers. Over time, you will be known as an authority in your space, and you will reap higher rankings (and high-quality leads) as a result.
Unfortunately, many B2B companies have fallen way behind on their SEO strategy, and are either using old methods or have nothing in place at all. A digital marketing agency that specializes in SEO is a great way to expedite the tall order of getting some momentum going early on. This will, of course, be much more expensive than in-house services from your resident "SEO guru" but will likely save you a lot of money over time.
Speaking of time, I should mention that optimizing your website for the search engines is a slow process. Studies have shown that it can take up to a year or more for quality content to be discovered and rank organically on Google. And this is only if the content is properly optimized for online search and contains valuable information.
Ditch the Keyword Research Tools for Google
At this point, you're probably thinking I'm "out to lunch". I'm not saying that keyword research tools don't have their place in B2B SEO marketing, just that they are being misunderstood.
For an excellent crash-course in SEO best practices for 2019 and beyond, have a look at this eye-opening keyword research video posted by Income School. These guys know their stuff, and the old methods of using keyword research tools just aren't producing results they way they should.
Don't get me wrong, SEO tools like SEMrush, Longtail Pro and Keyword Everywhere (Free) are a great way to study the general volumes of popular terms. They can validate your assumptions about which keywords to go after for your B2B business. The problem is, most B2B marketers take the information as gospel. The truth is, these numbers are extremely rough estimates and should not be used to expect actual numbers of traffic.
Also, spending too much time focusing on keyword research and optimizing your content around it has a way of turning your writing into something that offers less value to the reader. An example is keyword density. This old-school SEO metric has much less value today as Google continues to advance their machine learning capabilities to better understand user intent.
Practical ways to add additional value to your content
Google gives provides you with some powerful information about what users are looking for about your topic. The methods described below have the power to make your post stand out over the competition by adding exactly what users are looking for. It's also completely free, which is why I don't think a subscription to an expensive keyword research tool is worth the money.
Google's auto fill suggestions gives you the inside track on the most popular terms related to your primary keyword phrase. In the example below, you'll see that it's probably a good idea to cover items such as "new websites" and "small businesses" in your content. A post that manages to answer a wide range of questions around a topic stands a much better change of landing on page 1 of the search results.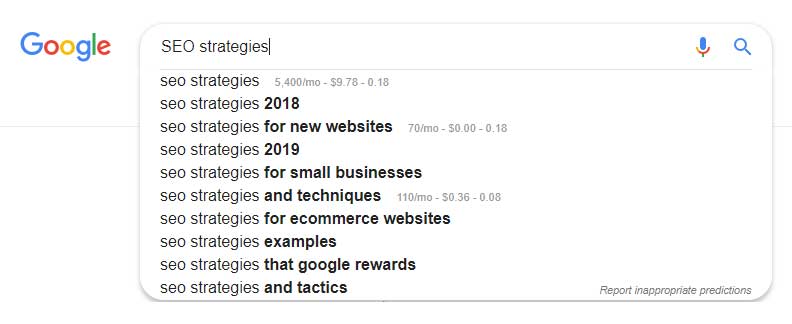 Use auto fill suggestions to build a more well-rounded post
You may have noticed the additional information displayed along side of the keyword phrases. This is coming from the Keywords Everywhere Chrome plugin, and it is completely free. I recommend giving this tool a go as it adds some insightful (although vague) search numbers next to the search queries.
Next, have a look at the searches related to section that appears at the bottom of the SERP (search engine results page). This list includes even more ideas for additional content. Don't just add items from these lists for the sake of adding them, analyze the intent of the user and decide whether this subject makes sense for your primary idea.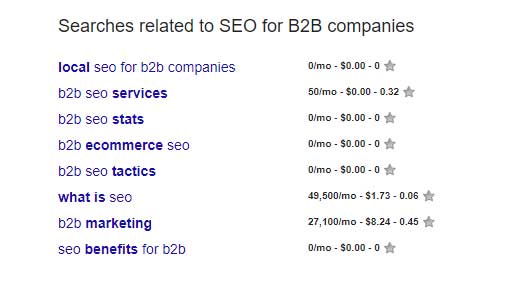 Adding content that covers queries seen in the "related searches" to your primary topic can add additional value to your post.
Invest Time and Money Collecting Reviews and Client Testimonials
Reviews and testimonials from your existing customers are no longer just a nice "extra" to use in the sales process. They are an essential part of your online existence, and can make the difference between landing your next client, and losing one to your competitor.
In the B2B world, customers spend a much longer time in the early buying stages than ones in the B2C space do. This activity involves researching your business, comparing prices with your competitors, and reading reviews and client testimonials. Today's B2B buyers are well educated about your industry and are very resourceful thanks to a digital world of instant information.
The visibility of your brand during this stage of the customer journey is pivotal to your marketing success. First, you need your prospective customers to find you, next you need to make sure that what they find is accurate and valuable. If your business is lacking "social proof" such as honest reviews and client testimonials, make it a top priority of your content plan for the year.
Avoid the Social Media "Treadmill"
(Almost) everyone loves spending time on social media. Sharing content on Facebook, Twitter and Instagram are a great way to promote your content and generate new sales leads right? Wrong! Go ahead and take a look at the actual number of visitors coming to your website through these channels, and you may be in for a surprise.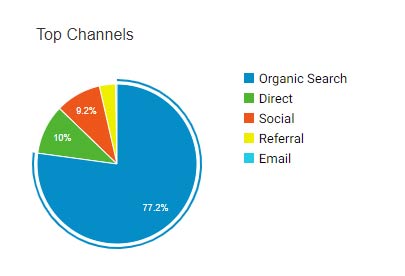 Is 9% of your overall traffic worth 30% of your time? Organic Search is where it's at!
Posts on Facebook and Twitter last for extremely short periods of time, until they are virtually gone forever. The traffic that actually does click through to your website and leaves the platform is limited and dies along with the post. There is still value in sharing on these platforms, but not to the extent that most B2B marketers think.
Pinterest (yes, Pinterest) and YouTube are better options for long-term traffic because they are search-engine based. Youtube has tremendous SEO growth potential thanks to its advanced search algorithms that mirror Google itself. Adding video content to your written posts is recommended.
If you are still not convinced that the majority of your organic social media sharing (paid social advertising is another animal) is a waste of time, compare your organic search traffic to your social traffic in Google Analytics. If you can justify spending an hour sharing on social media over creating new blog content, by all means, go for it.
Final Thoughts
SEO is big business, and there a lot of so-called "experts" that will tell you the right way to go about it. The ultimate goal I hope to achieve with this post is for you to focus on creating genuine, quality, and highly actionable content that best serves those searching for queries related to your business.
It feels silly to write this, because it's so obvious. But so many B2B companies have got it wrong!
Spend More Time:
Building a Content Calendar
Using Google Suggested Terms
Considering the User Experience
Adding Value to the Industry
Creating Video Content for Your Posts
Spend Less Time:
Using Keyword Research Tools
Trying to "Game" the Search Engines
Copying What Others are Doing
Sharing on Social Media
Pay less attention to the old-school SEO strategies that worked in the past like link-building. Anything that attempts to game Google's ranking algorithm is destined to fail. Social Media does not send traffic to your website the way it used to, adjust the amount of time you spend on this strategy accordingly.
In 2019 and beyond, relevant and helpful content that answers a question will rise to the top of the search results.
Helpful Resources:
B2B SEO Case Studies (Examples from Brick Marketing)
The Top 71 B2B SEO Companies (Rated by Credo)
A Fresh Perspective on SEO for B2B Companies (SearchEngineLand)