Pros and Cons of Buying a Realtor Email List
In the highly competitive world of real estate, having the right connections is key to success. To close a deal, you need access to comprehensive information about Realtors' businesses. If you're not a realtor yourself, you may also be interested in marketing your B2B services to this demographic.
Perhaps your business provides powerful tools to help real estate agents generate new leads, or hit their sales goals. Having an email list of targeted, qualified real estate agents is of high value to your business. Of course, you can only make meaningful connections to cold contacts when you send marketing emails with a strategic approach.
Related Post: Email Marketing Services That Allow Purchased Lists
An email address list database provides can provide you with key contacts that can potentially help grow your business, whether you want to promote a new product or service or stay in touch with fellow realtors. With a quality email database, you can easily connect with others in the industry and stay ahead of the competition.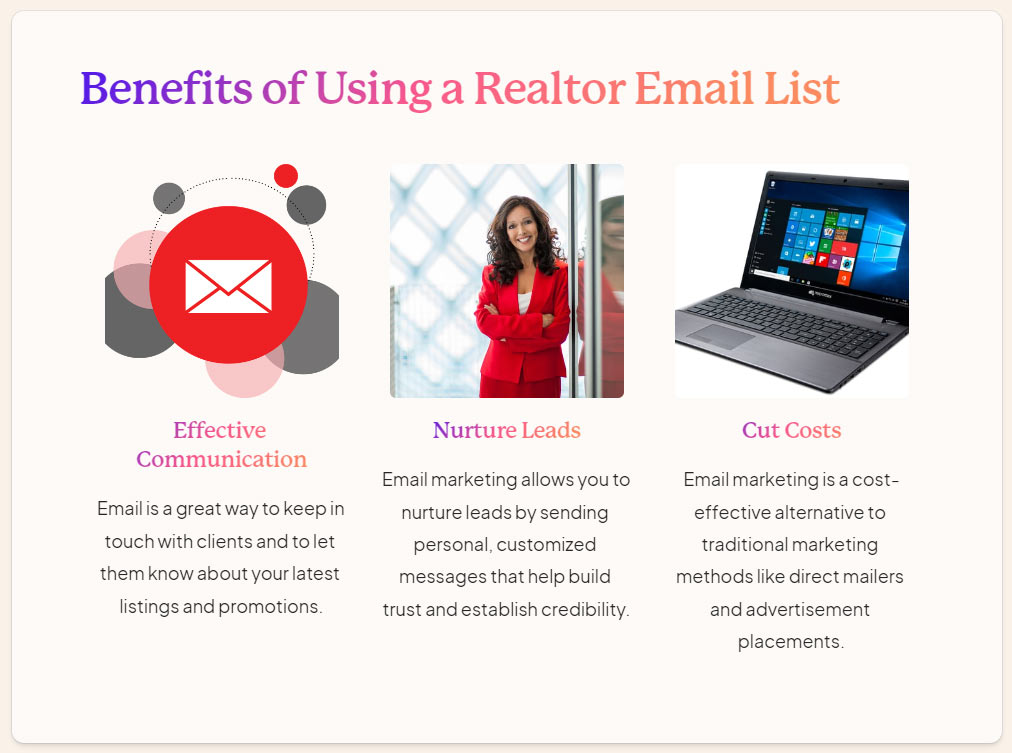 Real estate agencies are small but powerful businesses that help clients find their dream properties, whether for personal or business purposes. As the connector between properties and people, real estate agents guide others in making important, life-changing decisions about homes and businesses.
To do their jobs effectively, they need access to a variety of products, services, and tools. With an email database of real estate leads, you can showcase your products and services to these agents. From for-sale property management software to loan management help, printing services, and more, our realtor list includes leads who need your company's offerings to achieve success in their own businesses or agencies.
Buying a realtor email list can provide a targeted audience for your marketing campaigns in a few ways:
Specific demographics: When purchasing a realtor email list, you can often select specific demographics such as age, income level, location, and more. This allows you to tailor your message to a specific audience that is more likely to be interested in your services.
Segmentation: Many realtor email lists are already segmented based on the types of properties that realtors are selling or managing. This allows you to target specific types of properties, such as luxury homes, commercial properties, or rental properties.
Behavior: Some realtor email lists may also include information on past behavior, such as whether a realtor has recently closed a sale or is actively looking for new properties. This can help you tailor your message to the specific needs of that realtor.
Overall, a realtor email list provides a targeted audience for your marketing campaigns by giving you access to realtors who are more likely to be interested in your services based on specific criteria. This can help you save time and effort by focusing your marketing efforts on a group of potential clients who are more likely to convert into actual sales.
Pros:
Access to a large pool of potential clients
Saves time and effort in building your own email list
Can increase the visibility of your real estate business
Provides a targeted audience for your marketing campaigns
They may result in quicker sales and conversions

Cons:
The quality of the list may be questionable or outdated
Risk of being marked as spam by recipients
Possible damage to your brand reputation if the list is not obtained ethically
May not be as effective as building your own email list with qualified leads
Can be costly, especially for high-quality lists.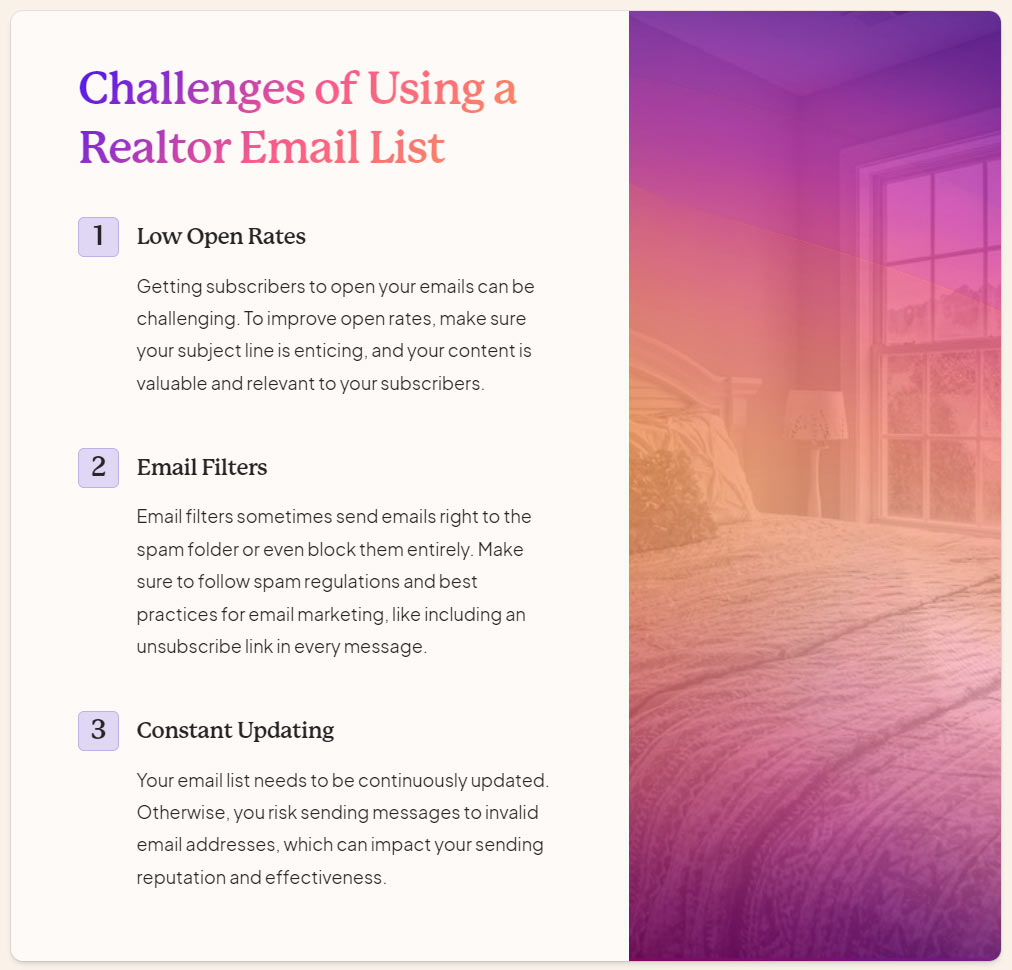 Where to Buy a Realtor Email List
As a real estate agent, finding the right leads is crucial, but you don't have to do it alone. Here are some websites that offer realtor email lists to help you find potential clients for your listings. These tools are available in both free and paid options, ensuring that you always have a steady stream of potential clients.
Increase the Visibility of Your Real Estate Business
If you're a realtor looking to make connections and grow your business, it is important to make your business visible to people because it can help you attract more customers and make more sales. After all, if people do not know about your business, they won't be able to buy or use your services. If you are in the business of selling products and services to realtors, you need to get in front of them, too.
There are many ways to increase the visibility of your real estate business, but some methods are much more effective than others. One way is to advertise in local newspapers or on billboards, but I believe this is less effective than having a strong social media presence. Another way is to have a website that is easy to use and has lots of information about your services.
The bottom line is, by increasing the visibility of your real estate business, you attract more customers, make more sales, and ultimately grow your business.
How to Get a List of Realtor Email Addresses:
Use a realtor email list provider: You can purchase a list of realtor email addresses from a reputable provider. These providers typically offer targeted lists based on criteria such as location, property type, and more.
Attend real estate events: Attending real estate events such as conferences, trade shows, and networking events can allow you to make connections with realtors and collect their email addresses.
Check real estate association directories: Many real estate associations maintain directories of their members, including their contact information. You can use these directories to obtain realtor email addresses.
Conduct online research: Conducting online research can help you find realtor email addresses. You can search for real estate agency websites, social media profiles, and business directories to obtain email addresses.
Ask for referrals: If you know other professionals in the real estate industry, such as mortgage brokers or title agents, you can ask for referrals to realtors who may be interested in your services.
It is important to note that some methods, such as purchasing an email list, may not always result in high-quality leads. It's crucial to ensure that you are obtaining the email addresses ethically and that the leads are relevant to your business.
Video:
In this video by Going Social on YouTube, Lowell Brown explains why an email marketing list is extremely important to have, on top of a strong social media presence.