Email Marketing Services that allow Purchased Lists
Email marketing has proven to be one of the best ways to effectively reach a B2B audience. The directness of email has the power to put your message in front of the right people, and get them to take action. Keeping the sales funnel topped up with fresh B2B leads is a top priority for sales teams looking to achieve more.
If your email lead generation is at a standstill, perhaps you've considered the idea of purchasing a large email list for lead gen purposes. In this post, we'll discuss the email marketing services that allow purchased lists.
The right third-party email marketing service will allow you to convert cold email traffic into warm leads. At a minimum, a quality email marketing service that allows purchased lists will have features such as:
data hygiene checks and filtering
cold contact friendly email templates
custom landing page integration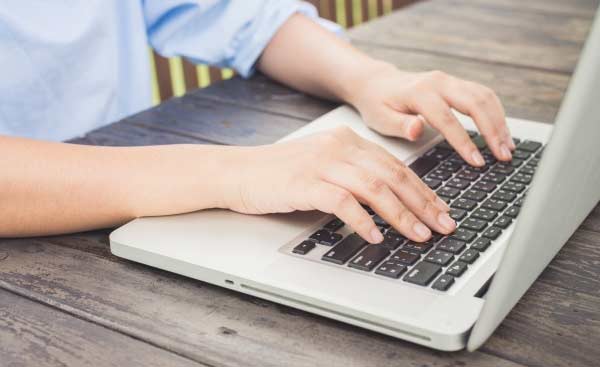 The Truth about Sending Emails to a Purchased List
Yes, there are safe and effective ways to send email marketing to a purchased list, and it can be a tremendous way to drive revenue and growth for your business with new B2B leads.  Also known as non-permission based email marketing, the concept is to send an email message a targeted audience of cold contacts, in hopes of landing a handful of new leads for your sales team.
It may sound like "spam" at first, but realize that smart marketers are using this strategy to land powerful B2B leads each and every day. Ethical businesses use outbound email marketing to provide valuable solutions to highly-targeted, industry-related contacts.
In the email lead marketing world, the key point to remember is that your message must provide true value to your list. You must provide a clear solution to a problem if you ever want a shot at converting a cold prospect.
Related: Gary Vee's thoughts on purchasing email lists
Can you really convert leads using a "cold" email list?
Why would you want to send an email campaign to an audience that historically has an atrocious open rate? I mean, the emails on this list have no idea who your company is or what you offer.  Well, combine a purchased list of emails that fit your target buyer persona (whether it's sales, marketing, c-level execs etc.) with an email marketing service that allows you to reach them effectively, and you've got a powerful lead generation tactic.
Helpful Resource: What is Cold Email (and is it Spam)?
The potential value of your purchased email list lies in the following achievable victories:
turn a list of cold contacts into warm opt-in leads
import the opt-in leads you convert into your CRM
nurture warm leads through marketing software
reach out to hot B2B leads to close
Yes, you can convert the cold contacts on your email list into paying customers. Many of the same best practices used to convert permission-based email campaigns apply when sending to cold traffic.  Your email subjects lines, content quality and CTA will all need to be razor sharp if you ever want to reach out to these people.
The B2B Lead Generation Potential of Outbound Email Marketing
Sending emails to a list of cold contacts must be done properly, however.  Measures must be taken to protect your online reputation and ensure that your Corporate IP's and domains are never at risk. The services that handle non-permission based email marketing campaigns must be 100% CAN-SPAM compliant, or you'll quickly run into trouble.
My goal for this post is that you understand how effective email marketing can be for your B2B lead generation goals. There are a lot of misconceptions about this emailing purchased lists, so let's dive into the facts.  In this post, we'll give you some solid options to choose from when deciding to send email marketing to a purchased list.
Why Traditional Marketing Automation Won't Work
Before we discuss the options available for this type of outbound email campaign, it's important to first cover the risks of using a service that was not designed for purchased lists. If you're not using the right software, your email campaigns will never reach the inbox, and your ability to market to your bought list in the future is lost.
Related Post: Why Purchased Lists Are a Huge No-No for Your Email Marketing
If you try to send email marketing campaigns to a non-permission based list using marketing automation software (such as Hubspot or Mailchimp), you will quickly run into trouble as this software was not designed for this type of outbound marketing.
Don't damage your sender reputation
You may damage your sender reputation or even become blacklisted, at which point you can kiss your deliverability rate goodbye. Your purchased list of emails may include bad data including spam traps, honeypots or moles.
The bad or "dirty" data will negatively affect the deliverability of your campaigns, and internet service providers (ISP's) will report and blacklist you as a sender. This takes a toll on your sender reputation and you'll lose the value of your purchased email list.
It can be challenging to improve your sender score, yet easy to lose points quickly. Webmail providers look at this score and decide whether your email deserves to hit the inbox or the spam folder.  This is critically important when trying to reach a bought list. Here are some of the biggest culprits for ruining sender score:
sending to a list without running a hygiene checks
sending poor quality, spammy content
sending emails to spam traps and honeypots
Related Post: Ways You are Damaging Your Sender Score
Email Marketing Services that Allow Purchased Lists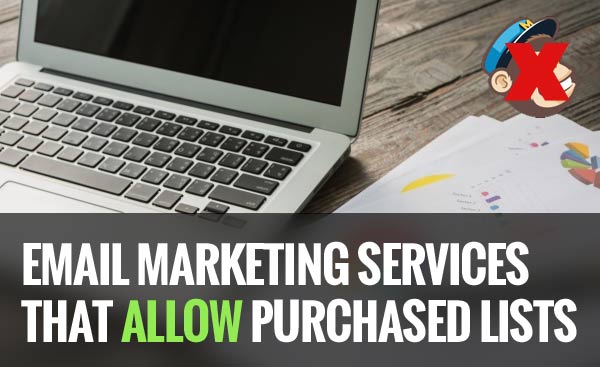 Choosing an email marketing service that you can trust to successfully deliver your bulk email campaigns is a big decision. I urge you to do your research and compare the features of each of these services to ensure its the right fit for your audience and campaign goals.
Clickback makes it clear that their software is all about B2B lead generation, plain and simple. They take care of scrubbing your third-party list with advanced hygiene checks on import.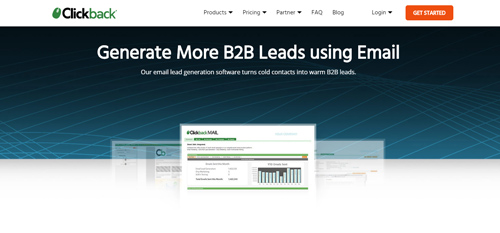 Clickback allows you to send email marketing to a non-permission-based list
They have an impressive track record when it comes to email marketing to a purchased list, which is hard to come by in this industry.
Like all aspects of the B2B world, its all about targeting the right buyer persona.
Prospect.io offers many of the features marketing and sales teams look for when planning to send emails to a purchased list. This includes finding and verifying email addresses, cold emails and drip campaigns, and automatic integration with existing sales tools.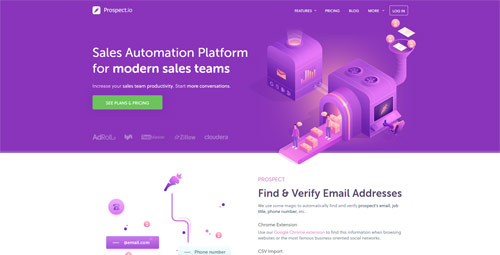 Prospect.io offers a complete sales automation package with impressive features
Their advanced tracking features allow you to monitor email open rates, link clicks, replies and much more.  Interestingly enough, there is no direct mention of allowing purchased email lists with Prospect.io – but the nature of this software lends itself well to this opportunity.
Another email marketing service that allows purchased lists is Hotsol, which was recently brought to my attention in the comments. (Thanks, Andrew!) Hotsol specializes in bulk email delivery and works with companies of all sizes to deliver high volumes of daily emails.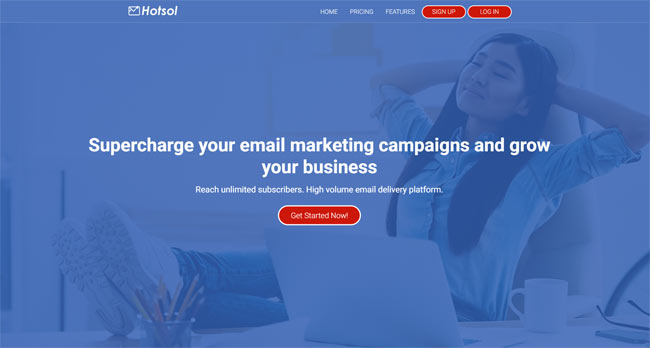 Hotsol – High Volume Email Delivery Platform
Their bulk email marketing services give businesses the ability to send campaigns without subscriber limitations and time limits. They offer SMTP accounts for users that have their own email software and want to send a maximum of 10,000 emails/day.
Hotsol also offers dedicated email servers for high volume senders that wish to send more than 50L emails per day. They use multiple IP's in rotation and multiple domains to send email. Here are the listed features of this high volume email delivery platform:
Manage your email lists
Import your contact list to the cloud
Segment your list by category
Test variations of email campaign content
Send triggered emails based on activity
Send automatic responses
The flexible pricing plans include basic, plus and pro accounts which all include 1 dedicated IP and unlimited subscribers. The basic plan limits your sending to 25,000 emails/day while the pro plan scales all the way up to 10,000 email sends per day.
I am no longer recommending Campaigner, as they have stated that they specifically do not allow purchased lists!
Email Verification Services
Next up, let's look at some of the email verification companies that allow you to import a large email list to prepare it for email marketing.  This software won't actually let you send to the contacts, but list cleaning is a critical first step towards preparing your list for sending.
ZeroBounce Calls themselves "the best email verification software".  The verification process includes:
spam trap detection
abuse detection
social awareness
first & last name
gender detection
Use ZeroBounce to remove the invalid emails from your list that destroy deliverability. The toxic domain detection and overview reports are useful features.
Snov.io includes features an "email finder" that helps you find the right people faster with outbound research. The free chrome extension lets you scrape emails from LinkedIn, Twitter, Facebook, and company websites. This can be a great way to build a targeted list of emails of companies you know are a great fit for your services.
Helpful Tool: Snov.io Email Finder Chrome Extension
Once you've got your list of emails, you can use their email verification service to filter out any bad data. Snov.io prides itself on its email verifier that checks email addresses to ensure the list is valid and bounce-free.  It's a fast way to check your bulk email list online and even works with Gmail, Yahoo, and Hotmail addresses. You can either upload a list of emails or use API verifications.
SwipeMail
SwipeMail is an AI-driven bulk email marketing solution for smart delivery of your campaigns.  It keeps itself updated with the recent ISP's anti-spam policies and user behavior changes that can negatively affect deliverability.
Final Thoughts
Email marketing continues to be one of the most effective digital channels for lead generation.  If you are sitting on a list of emails that have not yet provided you a return on investment, consider using an email marketing service designed for sending to a purchased list.  Or, perhaps you have never considered sending a large cold prospect email campaign, until now.
Email lead generation can be a powerful way to grow your business with a purchased list of B2B contacts. There are many fantastic options to choose from when it comes to getting these cold campaigns delivered, just make sure that you've done your research about the service first.
(Reviews on Capterra are a great place to start.)
The most important takeaway is that the contacts need to be relevant to your business services.