4 Ways to Effectively Nurture B2B Leads
Lead nurturing is all about keeping your prospects engaged throughout the sales funnel. You need to point them toward your end goal of becoming a paying customer and answer all of the questions they have along the way. Some of the most popular methods include follow-ups, personalization, and targeted content.
Because the nature of inbound marketing relies on the customer discovering your solutions, the actual percentage of nurtured leads that become customers is somewhere around 10%. This makes a sound lead nurturing strategy of the utmost importance, as you want to make sure to capture every sales opportunity possible.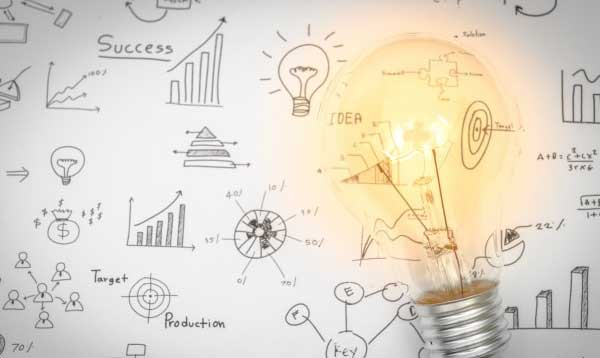 Make no mistake, B2B lead nurturing is well worth the effort. Research shows that marketers see a 20% increase (or more) in sales opportunities in nurtured vs. non-nurtured leads. It's also a very cost-effective way to close more sales, as the leads have been "warmed up" as opposed to starting from scratch.
You would think this was enough information to have every marketing and sales team on board with lead nurturing best practices, yet studies show that only about 40% of marketers actively nurture their sales leads.
You can't ignore the estimated 95% of B2B leads that aren't ready to close yet.  The B2B buyer journey can take up to 6 months (or longer), so you'll have to be patient and nurture your leads effectively along the way. The video below describes the importance of the way you communicate with leads until they are ready to move forward.
What is Lead Nurturing?
"Most sales don't happen until 8-12 difference touches"
Marketing Automation
Before we get into the specific strategies, we need to mention the key tools needed to make this happen. If you're already using a marketing automation system, you've got some seriously powerful tools for nurturing B2B leads.  Tools such as HubSpot or Marketo allow you adjust the frequency of your marketing communications and understand user behavior. Learning how to adapt your campaigns based on engagement is one of the keys to an effective lead nurturing strategy.
Digital marketers need a tool that handles everything from acquisition to advocacy, with a reliable way of measuring the results. Your prospects are making their own opinions about your service before they ever interact with your sales team. Being able to reach B2B leads through personalized campaigns means that they will be more engaged when sales finally reaches out.
Why Lead Nurturing is Important
Often times, keeping the sales funnel full of leads can be the tricky part, which is why website tracking tools have become such an attractive option for marketers.  Consider installing a website visitor tracking tool to accelerate B2B leads.
Lead nurturing is an essential part of an overall inbound marketing strategy. To paint a better picture of what a complete inbound marketing strategy looks like, have a look at this post shared on Entrepreneur. So which lead nurturing strategies work best in the B2B space? Here are a few of our favorites.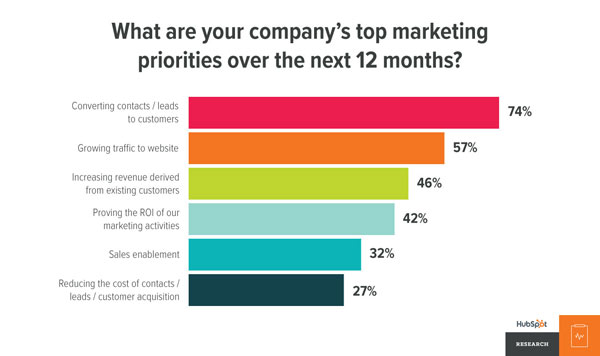 74% of companies say converting leads into customers is their top priority (Hubspot)
4 ways to effectively nurture B2B leads:
1. Send Timely Follow Up Emails:
Time and time again, statistics have shown that a lead has a much higher chance of entering the sales funnel if contacted within the first 5 minutes of converting on your website form. Follow up with an immediate email to your lead letting them know that you have received their information and will be getting back to them soon.
The phrase "strike while the iron is hot" comes to mind. Your prospect has recently shown an interest in your business, so capitalize on this in a timely manner by sending them your best email content right away.
Automated lead nurturing is a tremendous way to reach a large audience quickly, but consider sending a timely follow-up email (or even a phone call) to your inbound marketing leads that fill out a form on your site. Increase your chances of converting your inbound leads into a sales opportunity by sending a personalized email to your top prospects.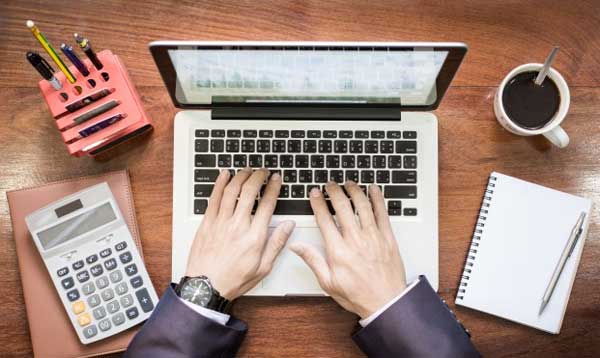 Bonus tip: Consider using an outbound email marketing campaign to generate warm opt-in leads for further nurturing. What do I mean by "outbound", see our post about Email marketing services that allow purchased lists.
2. Remarketing Campaigns
Remarketing is all about making sure your prospects keep your product or service top of mind. Once a tracking pixel has been placed on your website, you can begin to target this audience across much of their online experience through advertising.
Remarketing is one of the best ways to keep your audience engaged with your brand, as it keeps you in the conversation as your prospects conduct their research. Some of the most popular ways to execute a remarketing campaign include Facebook Ads and the Google Display Ad Network.
The reason remarketing is so effective, is because you can target your ads to users that have already shown interest in your product or service. You'll know that your message will be seen by an educated audience that just needs a little more nurturing to convert.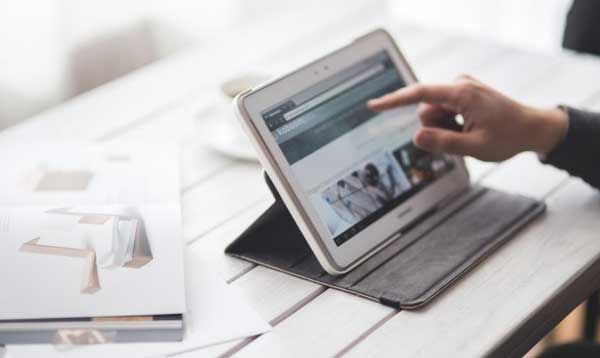 3. Podcasts and Vlogging
Video and audio content falls under the content marketing umbrella, and I don't think I have to remind you of the awesome lead-generating power of this marketing tactic.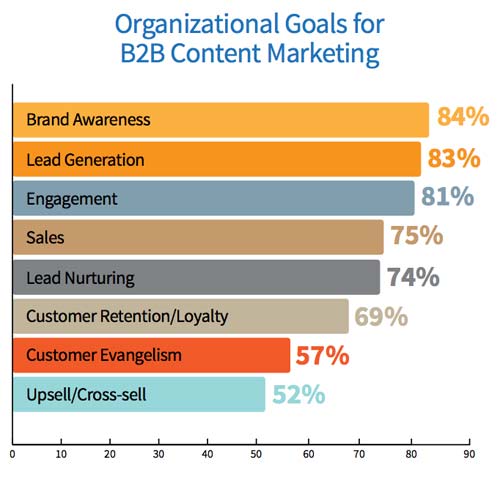 This chart above shared by MarketingProfs shows that lead nurturing is one of the top priorities of any content marketing strategy
Podcasts have become extremely popular over the past few years because people love educating themselves while driving and doing other things. Why just listen to the radio, when you can get ahead in your business or career during your downtime?
As Jay Baer mentions in his webinar – "As people get busier and busier, podcasts give them an opportunity to learn while they're doing something else. It's a multitasking educational opportunity."
Podcasting for B2B Marketers: Getting Started
So what does this mean for B2B marketers? It means that by sharing industry knowledge and best practices through podcasting, your brand can become a trusted authority. Don't get me wrong, this is a long-game strategy that will take time and effort to pull off.
Consider re-purposing your blog posts as a podcast to leverage the quality content you have already produced.
Vlogging uses the same idea but through video.  A YouTube Channel is easy to set up and can be a fantastic way to reach a new audience. By providing valuable free content to your industry, subscribers will begin to trust and appreciate your information. It's important to post content regularly on this platform to gain traction.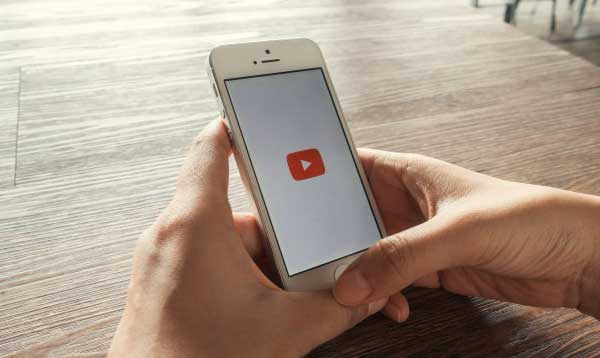 4. Email drip campaigns
An email drip campaign sends timely emails to onboard recent leads into your sales funnel. Begin with a welcome message that puts your best content on the table first. As explained earlier, connecting with your prospects while they're engaged is vital.
Introduction to lead nurturing drip campaigns
You'll need to create the email content for the drip emails, as well as a workflow, timing schedule and a landing page. Keeping the overall user experience should be your top priority.
Include valuable resources, video content, white papers – anything that will help your prospects learn everything they need to know about your business. By letting them educate themselves with your content, you can turn warm leads into hot ones that close.
Final Thoughts
If you take anything away from this post, make sure it's this. Nurturing B2B leads is an essential step towards sales growth. Do not ignore that leads that don't convert after only 1-2 touches, as Travis Robertson explained in the video above, realistically 8-12 touch points are needed to close a B2B lead.
Communicate with your leads by providing highly-actionable value that solves a problem in an honest way, and you'll begin to earn their trust, and their business. As long as you continue to provide real value at every touch point, you can't market too much. Keep pushing until your target customer's needs are met, and you get a response.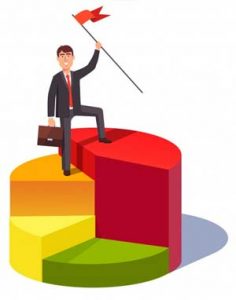 Helpful Resources:
7 Must-Have B2B Email Marketing Features – The Sharper Pixel 
The Modern B2B Lead Nurture Process – SmartInsights
Lead Intelligence Tools for B2B Marketing – The Sharper Pixel