8 No Non-Sense Lead Generation Strategies for Attorneys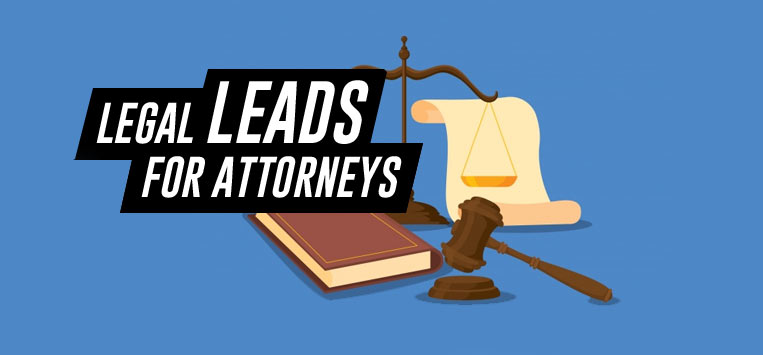 If you're looking to drive more leads for your law practice, the marketing strategies employed on your website can make a monumental impact of your efforts.  Your online presence should be handled with the utmost care, as the user experience can make a dramatic difference in the number of new leads you generate for your practice.
Attorney lead generation involves the attraction, education and connection of your legal services to your customers. The real power lies in your ability to win over prospects via content marketing through the search engines (primarily Google). To do this effectively, your law firm must accurately identify the common pain points of your prospects and deliver useful information for those searching for it.
When it comes to attorney lead generation, a balanced attack of digital marketing best practices is your ultimate weapon. Generating leads is one of the biggest challenges for most lawyers and law firms because much of the B2B marketing world is unfamiliar territory for the business owner.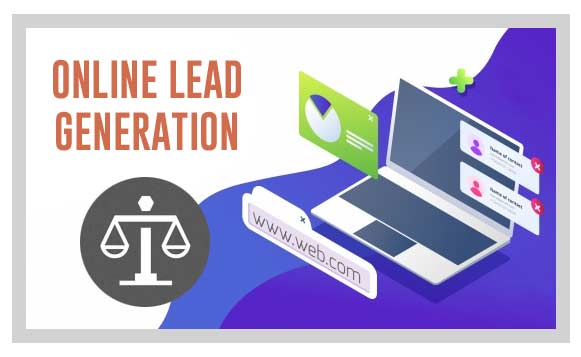 Why lawyers need an effective lead generation solution
The legal profession includes sole practitioners and attorneys affiliated with law firms. These law practices have many of the same business needs as any small enterprise. These lawyers represent clients in criminal and civil litigations, prepare legal documents, and manage legal transactions.
The bottom line is, law firms are like any other small business that aim to increase their client base. Online marketing can make prospects aware of their services in their time of need after an accident or when legal action is necessary.
Outdated methods of attorney lead generation are becoming less and less effective, yet many law firms continue to market themselves using traditional methods such as print ads and speaking engagements. The truth is, if you want to accelerate your lead generation efforts, your website is the digital channel that has the potential to produce the most clients.
Invest time to research the many dedicated attorney lead generation services available, such as Unbundled Attorney. This service has capitalized on their ability to field internet generated leads to do much of the heavy lifting for you.
Not everyone is convinced that a lead generation service is a smart option for their law firm. This was made clear in the article by Law Technology Today, in their article "Why lead generation companies suck". They share some specific data to back up their point:
The reason that our firm decided to market for ourselves and produce our own leads was that there is no good option out there. For perspective, we now produce over 2,000 potential new client leads per month. Out of that, about 50% come from non-paid search, 30% from paid search, and 20% from social media (primarily Facebook).
If you're not willing to pay a premium for a dedicated lead generation service, I have put together a helpful list of ways you can increase leads using proven best practices.
8 No-Nonsense Strategies for Lawyer Lead Generation
As I mentioned earlier, the "old-school" methods of attorney lead generation such as print ads in the newspaper are showing signs of their age. These traditional marketing avenues are producing fewer quality leads and costing your law firm money. The cost per lead using these strategies is increasing, and lawyers are beginning to take notice.

The online world of lead generation has many advantages for attorneys including the flexibility to scale and optimize your campaigns. The problem is that most law firms just don't have a background in modern digital marketing. The common terms you may have heard floating around include:
Inbound Marketing
Outbound Marketing
Search Engine Marketing
Conversion Rate Optimization
Bounce Rates
The list goes on and on.
In this post, we'll share 7 no-nonsense strategies for attorney lead generation that involve optimizing your website and overall online presence. Effective inbound marketing involves the right clients finding you, so you'd better make sure they can find you. An SEO or marketing agency can set all of these marketing channels up for you, but you'd better set aside a serious budget for it.
Before you dive into the world of digital marketing service professionals, educate your law firm on the basic strategies of the B2B lead generation using your website.
Related Post: SEO Best Practices for B2B Businesses
A Basic Marketing Strategy for Attorney Leads
Your law firms website is the lynchpin of the entire operation. This is where you'll convert leads into paying customers by capturing their contact information. Your website is the hub of your online presence and where you'll want to invest the greatest amount of time. Spending time on any of the following strategies is time well spent because they all have to potential to explode the number of leads coming in.
The bottom line is, if you don't have the basic website optimization strategies in place, you'll have an extremely difficult time attracting new visitors to your site. If your website is unprofessional or incomplete, rest assured this will negatively affect your practice and the number of new leads coming in. Your website is not just a reference of contact information or a "business listing", it's the single most important part of your overall marketing strategy.
Recommended Website Setup
I'd recommend setting your website up on WordPress because it has become the industry standard CMS (Content management system). Many law practices are already using this platform for their website. If your website is old, chances are it was build using an outdated method of website creation and should be updated.
Transferring your website to WordPress can have some challenges, so for this task, I'd reach out to a professional in this area. Luckily, this type of online upgrade happens all the time, so there are numerous affordable options available.
A WordPress website is easy to update, no matter what level of online experience you have. If you know how to use Microsoft Word, you'll feel right at home using WordPress. The only tricky part is the initial setup of your hosting plan and theme, but just like getting your site transferred, there are many affordable services to complete this task for you.
Your website content can be basic at this stage, but a WordPress platform has many attractive features when it comes to content marketing. (More on this below) This allows you to create regular helpful written content via the blog, which will touch on all of the relevant topics in the field of law.
Helpful Resource: Recommended Basic SEO WordPress plugins
Optimizing Your Website to Generate Leads
With a solid foundation in place, you can now begin to optimize your website to attract more visitors and generate leads. The following digital marketing strategies below will help you drive qualified traffic to your site, that will eventually "convert" into a lead. A website can convert a visitor into a lead by getting the user to enter in their contact information on a form.
The form will include the essential details needed to follow up with them including their name, email address, and phone number. The details of the form will then be delivered to your inbox, outlining the specific details of each contact. A solid attorney lead generation website will deliver multiple inbound contacts per day, which can then be filtered down and prioritized.
Embed a Lead Capture Form on Your Site
A form builder is an essential plugin for websites looking to capture leads. There are many form builder plugins available for WordPress that will allow your visitors to provide the essential details your practice needs to follow up.
Helpful Resource: Top 10 WordPress Form Builder Plugins
Ways to Increase Traffic (and More Leads)
With a proper lead capturing system in place on your site, you can now focus your efforts on scaling the number of form-fills on your site. If you can increase the amount of website traffic you get, you can increase the number of leads you generate for your law practice.
Put the following 7 marketing strategies into action to increase the amount of website traffic your site receives.
Blogging
Writing helpful blog posts that cover an aspect of the legal industry can be a great way to engage with new prospects. Keep the information valuable and specific to target certain keywords your target audience will be searching on Google. The key to successful blogging is consistency and tone.
Speak the language of your target audience so they can quickly make a connection with your brand. Use your expertise as an attorney to offer useful advice to potential clients in need of answers. The blog posts make excellent content to share on social media and provide a big boost to your SEO.
Blogging is the cornerstone of any content marketing strategy and should be considered one of your top priorities when it comes to optimizing your website for lead generation.
"Small businesses with blogs get 126% more lead growth than small businesses without."
– content marketing institute
Helpful Resource: The 100 Best Law Blogs
Search Engine Optimization (SEO)
Search engine optimization involves the strategies business owners and marketers use to make sure that their content is seen in the search engine results pages. Almost everybody searches for specific answers to a question online, and search engines like Google help them find it.
Effective SEO takes time and a concentrated effort. The site must not only contain the basic elements a search engine needs to properly crawl and index the content, but show signs of valuable and useful information. There are 2 sides to the SEO equation – technical SEO and user-signals.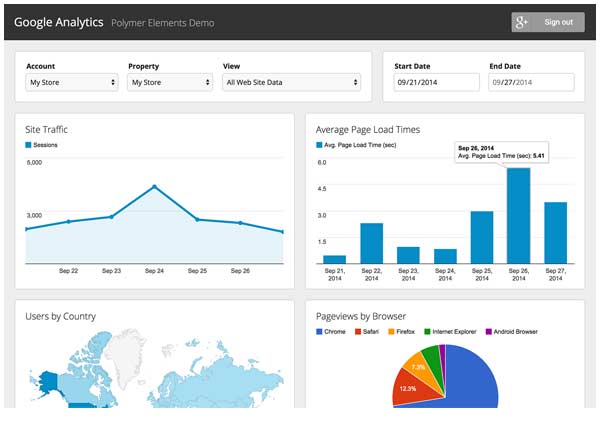 Take the time to learn and Understand your website metrics in Google Analytics
For example, decreasing the bounce rate of your website means that more visitors are finding your content useful, and spending time exploring your site. SEO is something that you must keep top of mind every time you publish a new piece of content. Ask yourself whether the information you share about professional legal advice answers a direct question the reader may have.
Helpful Resource: Understanding Bounce Rate
The primary goal of SEO is to drive more traffic to your law firm's website by moving your website content results up to the top of the SERP's. (Search Engine Results Pages)
Content Marketing
I believe that content marketing is the best way to generate more traffic to your website and eventually generate more attorney leads. Content marketing includes more than just the written material on your blog, it's also videos, webinars, ebooks and more. The key to content marketing is sharing valuable information with your audience to become an authority on the topic.
This strategy can have a ripple effect on your overall online marketing strategy, as useful content will naturally attract links from the around the web. This boosts your site's SEO and leads to even more traffic from the search engines. Who would have thought providing free information that people find useful could have such a positive effect? 🙂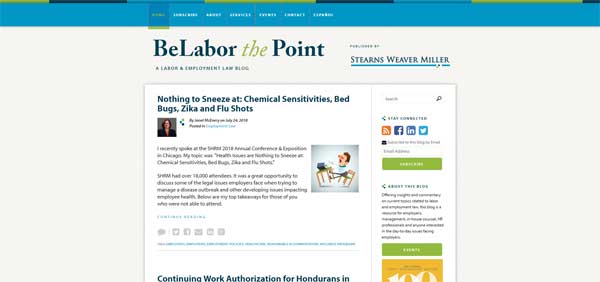 BeLabor the Point – A labor and Employment Law Blog
Social Media Marketing
Social Media marketing has its place when looking to attract more attorney leads. However, it can be easy to get carried away with this strategy because it's arguably the most fun. Yes, your target prospects are using social media, but we weary of spending too much time building a community if it doesn't result in qualified leads.
LinkedIn, Facebook, and Twitter are the main 3 platforms you'll want to have a presence on. Re-purpose your blogging content on these social networks to attract more people to your website. Remember to link back to your website as often as possible to convert the social media engagements into leads.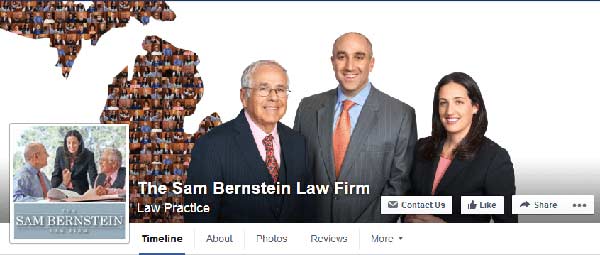 Helpful Resource: 8 Law Firms Getting Social Media Right
Email Marketing
Email marketing is one of the best ways to communicate with your audience because it is so direct and personal. The right approach to email marketing will keep your brand top of mind so that a prospect may consider your law firm in the future.
You can build an email list of qualified prospects by capturing this information when they fill out a form on your site. Make sure that they have opted-in to receive regular email communication to stay compliant. Once they are on your list, it's just a matter of "nurturing" them to convert into a paying customer by providing them with useful and highly actionable information.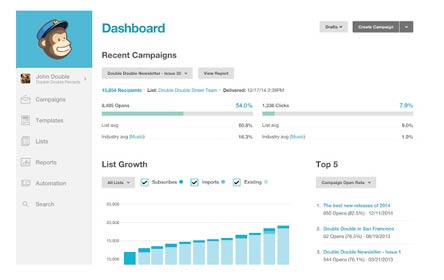 MailChimp is an effective email marketing tool for opt-in leads
For more tips on nurturing an audience through email marketing, have a look at the following resource from HubSpot: 19 Effective lead nurturing email examples
Online Advertising
Online advertising is a cost-effective and measurable way to drive more traffic to your website. The benefits of advertising online, whether its through Facebook ads or Google AdWords, is that you can target a very specific audience. Through Facebook, that's by isolating your target customers by demographics, and on Google AdWords, through the search terms they type in.
This is often referred to as PPC advertising (pay-per-click), and can be very effective at driving new qualified leads to your law firm. This market has become increasingly more competitive year after year, so it may be best to consult with an online advertising professional.
The following video does a great job of outlining the power of advertising your law firm through the Google AdWords program:
As great as online advertising methods are, they can also be expensive if you don't know how to properly optimize your campaigns. Terms in the legal industry have some extremely costly keywords, meaning that your cost-per-click can be very high. Do your research and make sure you are targeting the keywords that have a good balance between cost-per-click and user targeting.
The Best Lead Generation for Lawyers: Software Options
Software tools in the website visitor tracking category continue to hit the market with lead generation as their primary goal. The following tools can identify the traffic on your website to follow up with either through email or on the phone directly. The power lies in the fact that it lets you tap into potential leads that you may have missed – or have moved on to your competitors.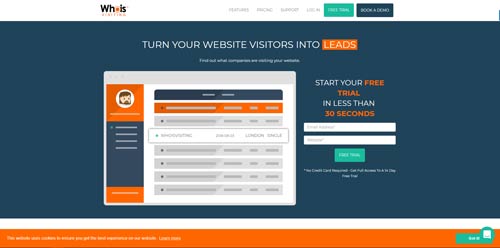 "Turn your website visitors into leads" – Whoisvisiting.com
If your law firm doesn't have the budget to invest in a professional website visitor tracking software, have a look at the following article sharing some free website tracking tools:
8 Free Tools for Live Website Visitor Tracking
Analytics and Optimization
Digital marketing is all about pivoting your actions based on results. You must test each strategy to see the effectiveness of it before relying to heavily on a particular method. There are several useful tools available to measure your online marketing strategies and make smarter decisions moving forward.
SEMrush is an excellent tool to use if you're getting serious about SEO and content marketing. This tool allows you to see the number of monthly searches for a particular keyword, and gives you the tools you need to create content that ranks well on Google. It also produces a site health report that measures the quality of your backlinks and other important metrics that make up a strong lead generation website.
Google Analytics is also a valuable tool to use, once you become accustomed to its metrics. Bounce rate, conversions, and goals can all be set and monitored within this free SEO powerhouse tool.
If you have implemented these strategies successfully, you can really increase the amount of traffic that visits your website. Due to the nature of online search and the powerful targeting tools available to today's law firms, your lead generation efforts can scale upwards along with your online presence and reputation.
Helpful Resources: