How Website Visitor Tracking Software Generates B2B Leads
An awesome lead-generation website does much of the heavy-lifting for you and can be a powerful way to fill your sales pipeline with qualified B2B prospects.
Inbound marketing is an effective strategy for earning qualified B2B leads, but even the most engaging website is leaking potential leads that move on to your competitor.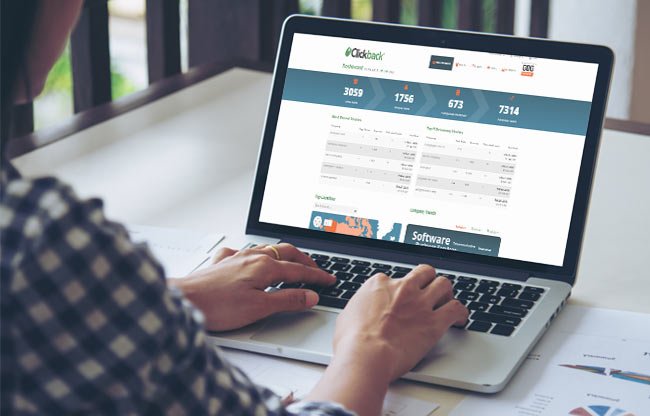 Analyzing Website Traffic for Inbound Marketing
Website analytics is big business because it's an incredibly powerful way to leverage machine learning to automate your marketing and sales strategy.  They tell you how well your website is performing, and provide useful insight into your ongoing inbound marketing effects.
The quality of the leads you earn relies heavily on the quality of the information on your website.  But if you've created highly-actionable content about your product, prospects will take notice.
The following website lead generation best practices can help turn your site into a machine that delivers qualified B2B leads on a daily basis:
These are the absolute basics of a profitable lead generation website.  For a summary of these tips and a few more ideas, check out this blog post from Marketo.
Related Post: 3 Reasons Why the Software Industry Needs Website Visitor Tracking
Don't rely on Inbound Marketing Alone
These inbound marketing strategies can work extremely well, but your website may still be "leaking" valuable B2B leads.  To complete the cycle of this strategy, the user must convert by filling out a contact form on their own.
To offset the visitors that don't convert, website visitor tracking software can be an excellent way fill in the gaps by utilizing outbound marketing tactics.
The following video showcases one of the most popular forms of basic website tracking using Hotjar:
This form of website visitor tracking relates to heatmap technology and is useful for improving the user experience and conversion rate on your website.
Using website visitor tracking software to generate leads
Here's how visitor tracking/identification software works:
The software will first analyze the website traffic and identify the IP addresses associate with each page view.  During this analysis, the software pulls important information such as:
The Person's Name
Their Location
The Name of Their Business
Their Email Address
Some visitor identification tools such as Clickback WEB even provide specific details such as their job title and annual company revenue.  That's some seriously powerful lead intelligence to have when reaching out to cold prospects.
Without tracking these visitors to your website, you may be letting hundreds or even thousands of warm B2B leads slide through your fingertips. I don't know about you, but I'd always rather have the option to reach out to these contacts, especially if they buyer persona is a perfect fit.
View this useful B2B buyer journey infographic on Pinterest: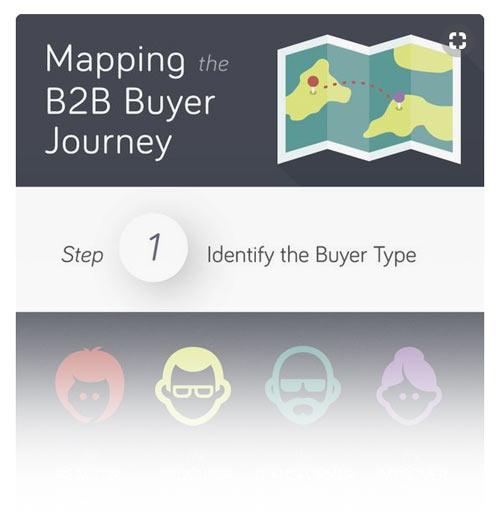 Identify Website Visitors to Fill Your Sales Pipeline
Imagine being able to identify potential leads on your website that are researching your product. By having a window into the buyer journey at this stage, you not only better understand your target customer, but can reach out to the ones who are a perfect fit for sales.
Look for software that includes advanced lead intelligence features such as lead scoring, email alerts and notifications and lead assignment and distribution.  This offers a better way to introduce the platform to your existing tech stack, so sales teams can seamlessly incorporate the data into their CRM.
Website Visitor Tracking Software Options (2018)
The following list of visitor tracking and identification software options are paid subscriptions for large B2B businesses with plenty of traffic. Consider about 5,000 unique page views to be the threshold for these tools to provide a healthy ROI.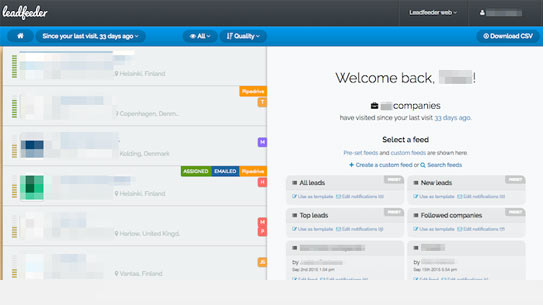 Leadfeeder specializes in turning website visitors into sales leads. It connects to your existing Google Analytics account and integrates with popular CRM's and marketing automation tools. Salesforce and Pipedrive users will be happy to know that Leadfeeder connects seamlessly with these powerhouse CRM's.
Heck, Leadfeeder even connects with LinkedIn so you can start a conversation with a prospect based on their previous actions on your site.  This level of behavioral intelligence can really provide an advantage when reaching out to potential customers.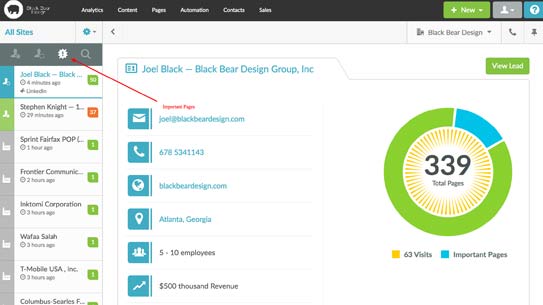 Among Sharpspring's many tools is a visitor ID feature. It allows you to identify anonymous visitors by using a reverse IP lookup. Sharpspring includes much more than a website tracking tool including email automation and dynamic forms.
Check out the comparison guide between Sharpspring and its competitors.
Clickback WEB gives marketing and sales teams the information they need to reach out to B2B leads quickly. The email notification feature allows sales teams to receive daily alerts when a current prospect revisits your website. They offer a 14-day free trial of their software.
To turbocharge your lead generation efforts, consider combining the lead intelligence capabilities of a robust website tracking software with an effective email marketing campaign.  Today's B2B marketer must stay on top of the software tools at hand to keep up with the competition.
Free Website Visitor Tracking Tools
If you're not in the business-to-business space, or your company isn't ready to invest in a dedicated website tracking software, consider a free tool such as good 'ol Google Analytics.  The real-time overview is great for observing which pages your site are being viewed, and from where.
You can also give Google Content Experiments to find out which parts of your page or content generate the most clicks or conversions. For more website visitor tracking ideas, be sure to check out the following resource by Outerbox:
5 Powerful Website Visitor Tracking Softwares
Until next time, keep generatin' those leads.
Related Post: Website Lead Tracking – See Whos Visiting Your Site