Use a Visitor Tracking Tool to Identify Warm Leads
Tell me if this scenario sounds familiar to you, your website visitor traffic is up, but your B2B lead generation numbers aren't moving. If organic traffic is responsible for producing the highest quality leads, why aren't you seeing the fruits of your labor in terms of qualified leads for your sales team yet?
The obvious reason for this is that your website visitors are not converting! They explore your website and consume the actionable content you have provided, but don't feel the need to move forward with you and reach out.  Statistics show that up to 98% of your website traffic will not fill out a form and convert.  Pretty discouraging, isn't it?
One of the smartest ways to identify the potential warm leads coming to your site is to embed a visitor tracking code on to your site. This can be a powerful way to generate warm B2B leads as it reveals the companies that are exploring your business. Website visitor identification is big business, and today's B2B marketing and sales teams have several software tools to choose from.
Website lead tracking software involves setting filters that bring the hottest leads to the surface. The key is to isolate your target buyer personas so that sales and marketing teams can reach out to right leads. In this post, I'll discuss what a website visitor tracking software does, and why it can be a powerful tool for B2B lead generation.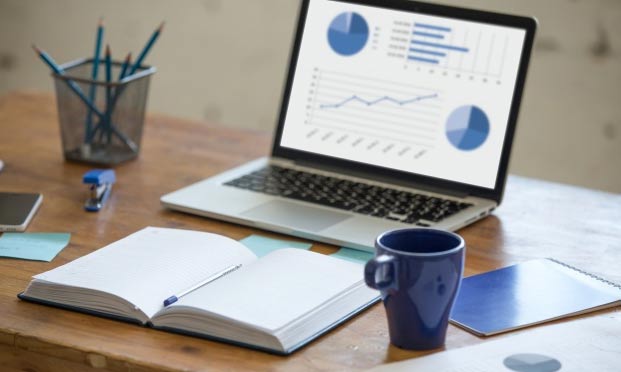 Identify your anonymous website visitors
Even a website using the latest and greatest CRO (Conversion Rate Optimization) best practices loses out on a mountain of B2B leads. This can be agonizing for businesses that pour their heart out into creating great content for their prospects, only to lose their business to their competitors.
The problem is, inbound marketing relies on the action of your prospects and is passive in nature. Don't get me wrong, inbound is a proven strategy for quality leads, but sometimes your patience can wear thin.  If you are trying to hit aggressive sales targets for the year, you don't have time to sit and wait for leads to trickle in through your website.
On the other hand, outbound marketing uses a proactive approach. It's is a smart way to offset the slow periods of inbound marketing B2B lead generation.  I've talked about the incredible power of Email lead generation before, but this time I'd like to focus on the idea of turning your website into a sales prospecting tool. I'm talking about using a website visitor tracking tool to show you the businesses that are exploring your website.
There are many effective tools to start tracking who your website visitors are, for the purpose of lead generation. With a window into the companies that are browsing your content, you can make smarter marketing decisions and narrow down your target buyer persona.  You'll have the ability to recover some of the lost anonymous visitors that are in the early buying stages of the sales cycle.
Enter the world of website visitor tracking software.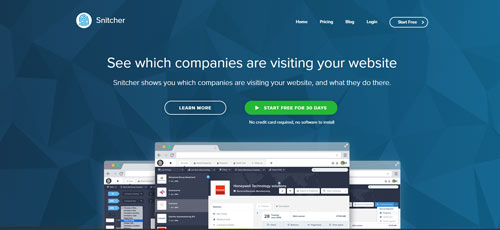 What do visitor identification software tools provide?
Software tools such as Visiblee or Clickback WEB allow you to discover warm leads by revealing the decision-makers and companies on your site. This lucrative data comes at a price, of course.  For example, you'll need to pay extra to actually obtain the contact details after you found a company you want. Fortunately, you'll quickly be able to understand which contacts justify the cost because the following criteria are outlined in a basic plan:
Industry
Employees
Company Location
Revenue
Potential Leads
Visit History
Each one of these visitor identification software tools likes to put their own spin on the user experience, but the general concept it the same: Identify anonymous website visitors to capture leads. The biggest differences in each software tool lie in the filtering options and lead management tools.
Lead filtering can be a real time-saver for marketing and sales teams. For example, if you know that your target customers usually have over 100 employees and an annual revenue of 5.0M or more – you can isolate this audience in the data. Filter the information further by identifying only the top prospects from lists, and then you can choose to purchase the specific contact details.
Some of the software tools (but not all) have the ability to connect you with the leads in real time. Meaning, sales teams have the ability to contact them immediately after you have ID'd them. Marketing teams can also observe their browsing behaviors to gain insightful knowledge about their target buyer personas.
Filtering website visitor tracking data
Naturally, you'll want to filter the visitor data so that your presented with only the quality leads you're interested in. All of the software tools available for identifying website visitors include a highly-targeted filtering system. The filters that are most useful to isolate your core prospects are:
Desired Geographic location
Benchmark Prospect Score
Exclude Current Customers and Competition
You can set the parameters once, and the software will automatically filter all future visitors using these criteria. Don't rush the initial targeting, as a little time and effort up front will save countless man hours in the future. The last thing you want is to have qualified leads slipping through the cracks.
Lead Filtering Infographic (Clickback WEB)

When you have taken the time to properly filter the visitor data, your marketing and sales teams will only see the leads that truly matter to your business. Tracking the leads that are coming to your website is one of the fastest ways to scale your B2B lead generation efforts, and new lead tracking software tools are popping up every year.
In a future post, I will compare some of the software tools available to help you make an educated decision. Until next time, keep up the grind.